COVID-19 PROTECTION FOR DENTISTS & SURGEONS
Introducing the ONLY face sealing, COVID 19 effective safety spectacle with attached 3.5x 420mm focal length binocular Loupe with LED beam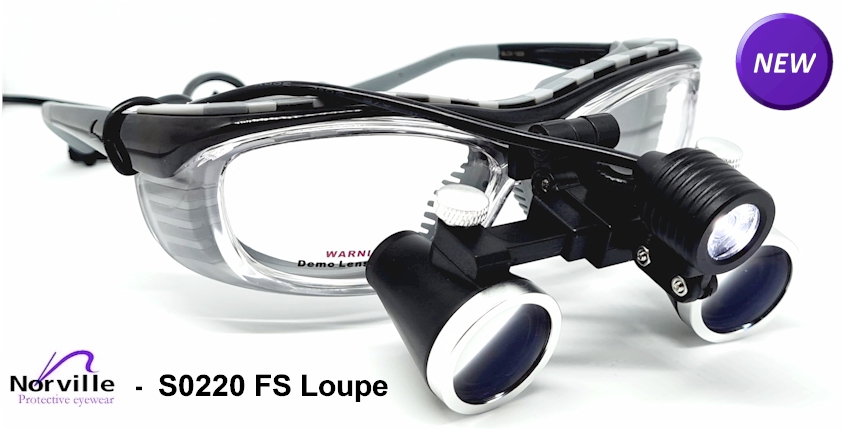 Based on Norville's COVID-19 popular face sealing protective safey frame with its rear rubber gasket and dedicated neckstrap.
Complete unit with distance prescription lenses & LED lamp - £499 plus P&P (VAT FREE until 31 Oct)

Delivery expected in 4-6 weeks
Conventional Loupe safety frames are open and don't seal against the face. Even wearing a face visor over the top doesn't prevent swirling aerosol which may contain virus from reaching the eye. Dentists and particularly ENT surgeons are identified as being at highest risk from COVID aerosol, requiring not only respiratory, but effective ocular surface protection. Magnifying loupes have become relied upon on to significantly improve visibility of very intricate procedures.

Achieving maximum eye protection from COVID with magnifying loupes was previously impossible, until now.
The Norville S0220 FS safety frame is the most effective safety frame on the UK market to do this. We refer to it as a spectacle/goggle - 'Spoggle'
The rubber gasket mounted behind the frame and the dedicated adjustable neckstrap ensure a secure fit and a good seal to the face.
The distance prescription of the wearer will be glazed diectly into the safety frame to ensure the optics are perfect for optimum visibility of the task.
Securely mounted to the front is our 3.5x 420mm working length metal bodied binocular flip up loupe, complete with a focused LED adjustable brightness beam connected to a 5-6 hour rechargable battery pack to illuminate the task brightly. The Loupe is hinged in two places to give excellent positioning in front of the frame with a good downward angle to avoid neck strain. The horizontal distances between the centres of the oculars are adjustable using the central adjustment wheel and each can be angled for the desired level of convergence required.
OTHER IMAGES / WHATS INCLUDED
FRONT VIEW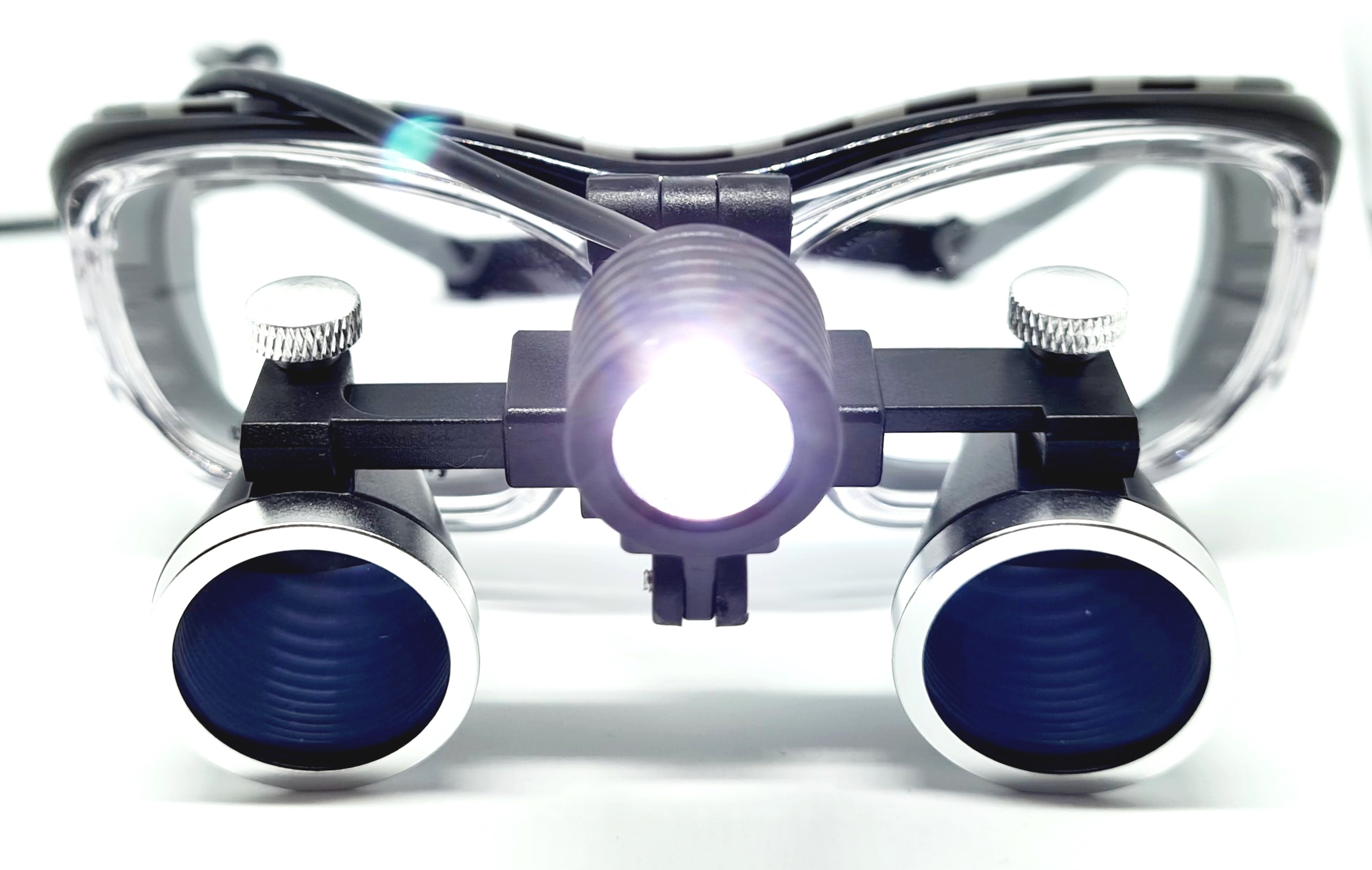 REAR VIEW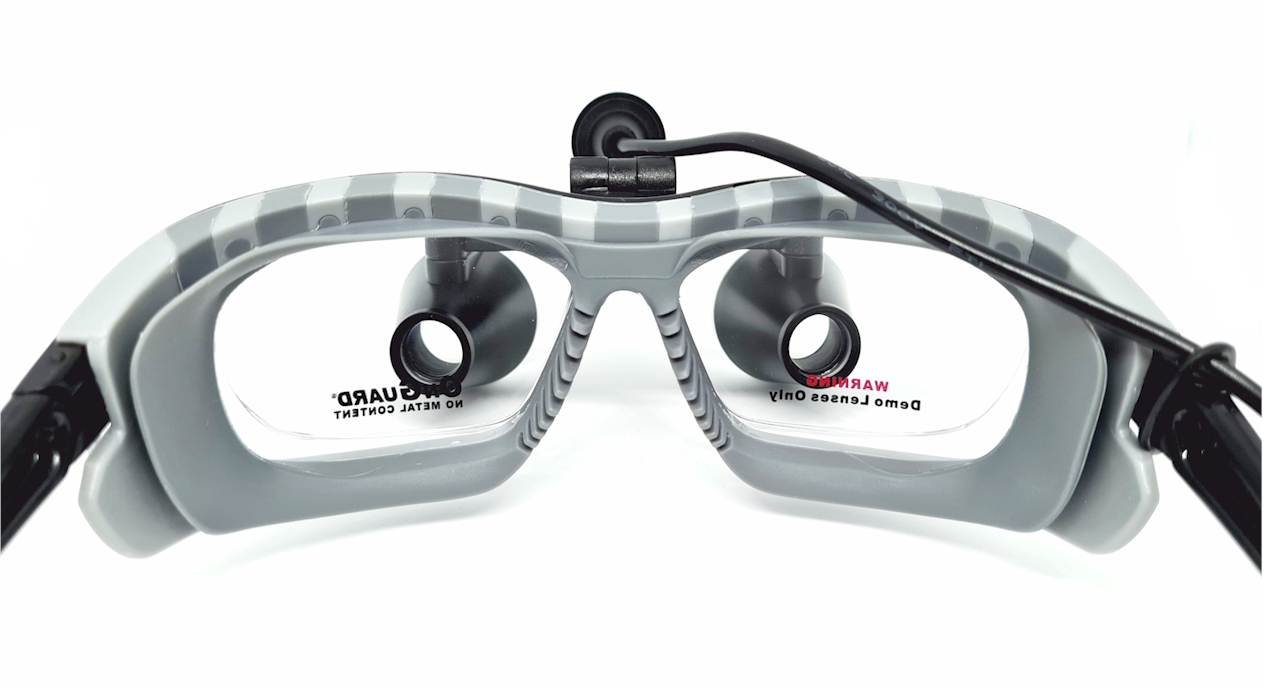 RECHARGEABLE BATTERY PACK AND UK 3 PIN CHARGER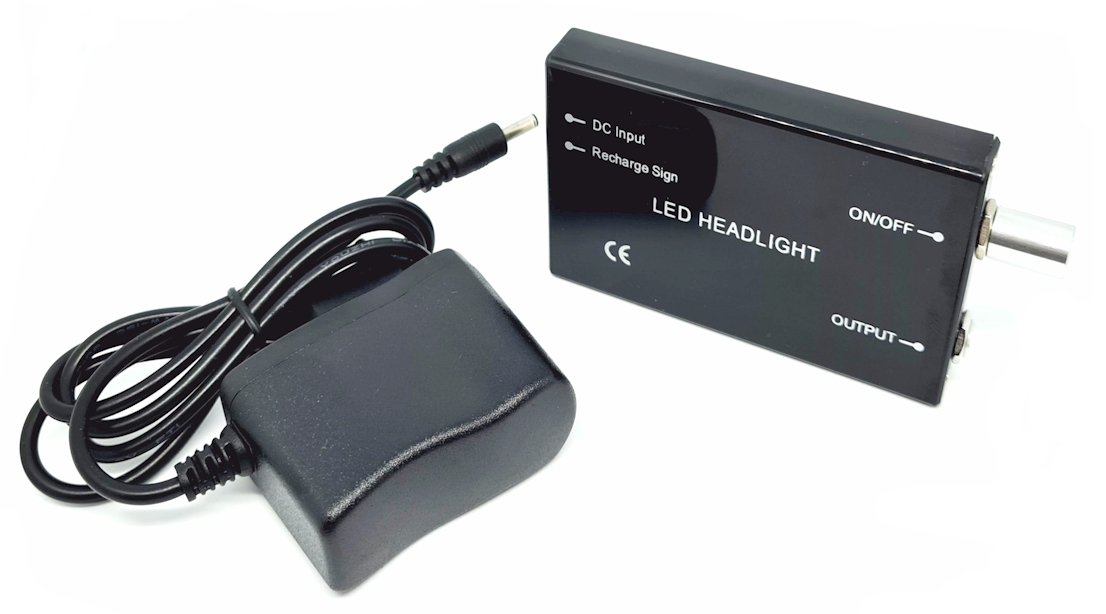 RETAIL PACKAGING / FOAM STORAGE BOX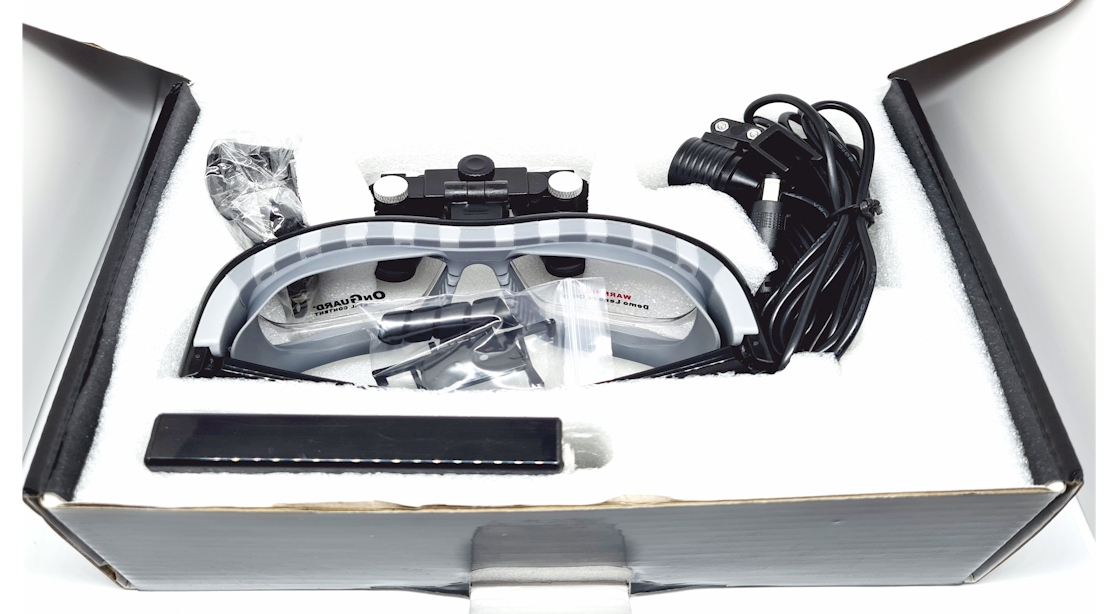 TWO YEAR WARRANTY / TOTAL WEIGHT INCLUDING FRAME, LENSES, LOUPE and LED LAMP 105g