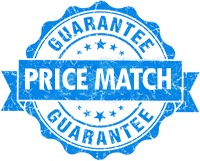 We'll match against any other UK retailer store or website price including offer-code discounts

We'll match the prices of any products (not delivery) offered on identical terms and where we can check the price and stock position

Our competitor's product must be identical in specification, brand and model number to ours

Both us and the competitor must have the product in stock and ready for delivery

We do not match competitor's trade prices

We must be notified of a price match claim within 6 weeks of ordering your safety glasses or before you place an order with us.


1. Definitions
"Products" means the goods sold by safetyspecs.co.uk you wish to purchase

"Order" means an offer to buy from safetyspecs.co.uk, either verbally or in writing according to

the Terms and Conditions

"Contract" means the contract incorporating the Terms and Conditions between you and

safetyspecs.co.uk for the sale and purchase of Products.

"Site" means the safetyspecs.co.uk website with the URL www.safetyspecs.co.uk
2. Customer obligations

On placing your order you undertake:
that you are aged 16 or over and are not registered blind or registered partially sighted.

that the written prescription for your spectacles is less than 2 years old.

to supply full, accurate and complete details of your prescription, or a copy of your prescription if necessary, and any contact details as given to you by your optician

that you know of no reason why the Products may not be suitable for your requirements and you have ensured that a safety risk assessment deems the product is suitable for the task for which it will be applied.

that if you have worn spectacles before and have experienced any problems with the spectacles, to provide us with details of such problems

that you are the authorised holder of any credit/debit card you may use on the Site or have full authorisation to use a company card or account.
3. Conditions of supply
safetyspecs.co.uk has no liability to fulfil any Order received, until it has accepted the Order. Acceptance of the Order, communicated to you by email shall form the Contract.

safetyspecs.co.uk will make every effort to ensure all Orders are fulfilled, however we cannot guarantee the availability of Products. If the Products you order are unavailable, safetyspecs.co.uk will contact you to give you a choice to receive a suitable alternative or refund. If safetyspecs.co.uk

cannot contact you within 14 working days we will cancel the Order and provide a refund.

safetyspecs.co.uk reserves the right not to accept an Order.

Note: it may be considered necessary for safetyspecs.co.uk to contact the registered medical practitioner or registered optometrist who provided your prescription to discuss your prescription. Acceptance of these terms gives us your permission to discuss your Optical history with your current prescriber or their staff. This is especially useful in resolving any problems that make have occurred in order entry.

in some circumstances we may request that you send/email a copy of the original written prescription. (or a copy thereof)

safetyspecs.co.uk may request that you obtain a new written prescription.

safetyspecs.co.uk has the right to refuse acceptance of an order where such lenses have a spherical value of more than /-10.00 dioptres, a cylindrical value of more than /-6.00 dioptres. In order to produce the most appropriate and acceptable product we may suggest an alternative thinner or lighter lens of a different material or form. Any increased cost will be clearly communicated.

we also reserve the right to refuse acceptance of any prescriptions or selected extras which would be inappropriate and which may render the Product unsuitable or unsafe for its intended use.

in cases where safetyspecs.co.uk is asked to recommend Products to meet your requirements, safetyspecs.co.uk does not warrant that purchase of the Products will entirely satisfy your requirements. All recommendations of the Products by safetyspecs.co.uk are given in good faith and based on information supplied by you. Safetyspecs.co.uk cannot be held responsible if the Products supplied fail to meet your requirements particularly if we have not been made aware of full circumstances of its use.
4. Delivery
safetyspecs.co.uk will use its reasonable endeavours to deliver the Products within any delivery time specified, but any times quoted for delivery are estimates given in good faith only, and time shall not be the essence of any Contract, and failure to comply with such specific time shall not constitute a breach of the Contract.

unless otherwise agreed in writing safetyspecs.co.uk shall be entitled to make partial deliveries by instalments, and the Terms and Conditions shall apply to each partial delivery.

unless you inform safetyspecs.co.uk of any damage or short delivery of the Products specified in the Order by e-mail or in writing within 14 working days of delivery, the delivery will be deemed accepted by you.
5. Prices & Payment
the price payable by you for the Products shall be the price stated on the Site at the time your order is placed.

prices stated are in pounds sterling and are exclusive of VAT

the postage, packaging and delivery charges for all purchases are provided during the ordering process

payment for the goods and delivery charges can be made by any method shown on the website at the time you place your order.

payment shall be due before the delivery date and time for payment shall be a fundamental term of this agreement, breach of which shall entitle safetyspecs.co.uk to terminate the contract immediately. (with the exception of accounts where we have agreed credit facilities with you).

there will be no delivery until cleared funds are received (with the exception of accounts where we have agreed credit facilities with you).
6. Inspection
on receipt of the Products you must inspect them carefully. If any of the Products do not match the description or appear to be damaged or missing, do not use the Products or any items accompanying the Products and please contact us by email and inform us of the problem.

you must inform safetyspecs.co.uk immediately if there are any defects in the Products which are apparent through inspection or use of the Products or if you experience any difficulty in using the Products.

if the wearer experiences any visual difficulty having blurred, double or uncomfortable vision, the Product should not be attempted to be worn in a hazardous environment where the visual symptoms

themselves may pose a safety risk or hazard. Occasionally spectacle wearers will feel that different spectacles 'feel' different. It is advised that adaptation of 30-60 minutes is allowed to be established before embarking on a task that could be dangerous to the wearer. In the event that adaptation does not take place return the Product to us describing your symptoms fully. Wraparound frames where prescription lenses are tilted in the frames may give rise to adaptation issues, as might wearing polycarbonate lenses, where the user isn't used to either in their everyday spectacles

we may occasionally require that any unusual symptoms be reported back to the Medical Practitioner or Optometrist who provided the prescription.

safetyspecs.co.uk will require copies of prescriptions and the opportunity for ourselves to check PD measurements in the event of a visual difficulty with any safety spectacles we have supplied so that our Optometrist can investigate any causes.

if the Products are defective on delivery, safetyspecs.co.uk shall at its absolute discretion repair or replace the Products or give a refund. You agree to return the defective Products to safetyspecs.co.uk in the same condition as when received by you, including all items and packaging accompanying the Products.

you will be liable for the costs of posting, packing and delivery until the returned Products are received by safetyspecs.co.uk. Subject to 6.5

- safetyspecs.co.uk may at its discretion refund any reasonable costs of postage, packing and delivery (i.e. first class recorded delivery).

the safe return of the Products shall be the responsibility of the customer. Proof of postage must be provided in the instance of missing returns.
7. Returns & Refunds
in the event that a product isn't proven to be defective in either the prescription provided or in the components supplied and the product is just deemed not suitable in the way that it fits or in looks or comfort, then a replacement product will be offered as an alternative in the first instance. Note: A charge of 50% of the replacement pair value will be due to cover the cost of remaking this pair. A sample frame service is available from a menu link on the home page so that customers can 'try before they buy' to mitigate the risk of a product being unsuitable in look or fit.

in an instance where a refund is insisted upon for circumstances other that a defective product then costs of bespoke items such as prescription lenses which have been made to specifications provided by the customer. The frame value in these circumstances and any unused accessory returned will be refunded. (NB: Safety frame value for all models in this instance is £22.50 VAT) .

Customers should be aware that bespoke items such as prescription lenses are not regulated by the Sale of Goods Act or Distance selling regulations and are not covered by Paypal purchase protection schemes.
8. Repairs
Prescription safety spectacles are a product certified by a notified body. In the event of a component failure during use, the product must be returned to the original manufacturer for repair. Repairs, regardless how simple, conducted outside of the certified laboratory could invalidate the warranty and product indemnity provided by each manufacturer.

In the event of a component failure safetyspecs.co.uk will, on notification, provide a Warranty Return Form by email to facilitate the return of the product for repair/ replacement by the original manufacturing laboratory. safetyspecs.co.uk is not responsible for the return postage cost.- Trackable (signed for) delivery is recommended for all returned items so that the buyer has evidence of the return which will protect the buyer in the event that an item goes missing in transit..

safetyspecs.co.uk is not responsible for any downtime which may be incurred by the return of a product for repair. It is the responsibility of the buyer/wearer to provide for themselves a suitable spare pair or over-spectacles to use during the period that their broken safety spectacles are away.

The repair/replacement of a faulty component is subject to scrutiny by the original manufacturer who will decide if a component failure is a manufacturing fault with fair wear & tear or if the product has been misused, mishandled or damage was deemed accidental.

In the event the manufacturer deems the fault is due to user error then the repair becomes chargeable. safetyspecs.co.uk will notify the buyer/user of such a charge who may decide at this point to cancel the repair or make payment to safetyspecs.co.uk complete the repair.
8. Force Majeure
safetyspecs.co.uk shall be under no liability for any delay or failure to comply with these Terms and Conditions in the event that the manufacture, supply or delivery of the Products is prevented or delayed by any act or circumstances beyond its reasonable control, including but not limited to natural disasters, Acts of God, riots, civil commotion, strikes, shortage of supplies, lock-outs, industrial action, war, flood, drought, failure of power supply, disease or fire.
10. Governing Law
11. GDPR REGULATIONS
Overview
GDPR is a new privacy law in the EU. The GDPR provides more rights to Data Subjects. These are:
Consent - The data subject must give explicit consent for their data to be used for a particular purpose.
Right to Access - The ability to obtain from the data controller whether information is being processed on them and what that data is.
Breach Notification - Notification to the data subject if a data breach is likely to 'result in a risk for the rights and freedoms of individuals'
Right to be Forgotten - Ability of a data subject to request their data is deleted. The conditions for erasure, as outlined in article 17, include the data no longer being relevant to original purposes for processing, or a data subjects withdrawing consent. It should also be noted that this right requires controllers to compare the subjects' rights to "the public interest in the availability of the data" when considering such requests.
Data Portability - Ability for a data subject to receive the personal data concerning them and have the right to transmit that data to another controller.
Privacy by Design - Designing privacy into a system rather than as an extra at the end.
What this means for safetyspecs.co.uk customers?
safetyspecs.co.uk Ltd (referred to as safetyspecs.co.uk in the rest of this article) is the data controller and they utilise order processing facilities provided by Romancart Ltd (referred to as Romancart in the rest of this article) who is the data processor.
When orders are placed, Romancart software linked with the safetyspecs.co.uk website (& also operating an order form within an iframe on the website of Infield Safety (UK) Ltd) is used to generate invoices, process payments and generates order information emails for our customers. Romancart parameters are set by safetyspecs.co.uk to provide a seamless journey through specifying a pair of prescription safety glasses of our website, viewing an order in order summary, collection of necessary postal/invoicing details and proceeding to payment.
Card payments are dealt with by our card merchant PayPal Pro as are orders paid via Paypal checkout ensuring security for our customers and full PCI compliance in the handling of sensitive payment card data.
Neither Romancart nor safetyspecs.co.uk have any access to payment card data or Paypal passwords.
Paypal and Romancart have their own GDPR policies which safetyspecs.co.uk have scrutinised to ensure the protection of personal data throughout the ordering process for our customers
Privacy Policy
Data Backups
Our systems are backed up throughout the day with an additional backup taking place every 24 hours at a secure offsite facility.
Access to your Data
Access to the data on the safetyspecs.co.uk and Romancart machines is limited to employees of safetyspecs.co.uk and RomanCart Ltd only. (these are bound by confidentiality agreements). Both of our servers are located in secure data centres in the UK to which only security approved engineers have access to the hardware.
Business Transactions
In the event that safetyspecs.co.uk or Romancart is the subject of a merger, takeover or other business transition, ownership of the information either holds may be transferred. In this instance you will be notified by email of the details of such a business transaction.
What information do we collect from customers and why?
Romancart stores the buyers name, shipping address, billing address, phone numbers, ip address, company name, device details and optical prescription details of any orders which are initiated whether or not completed. This information is used to provide ecommerce services between the customer and safetyspecs.co.uk including processing and recording orders.
When do we collect this information?
The information is collected when the customer initiates a transaction on the safetyspecs.co.uk website and is used to fulfil the contract between us is supplying goods
Cookies And Tracking
Cookies are used to enable the persistence of a shopping cart throughout the buying process. This is to make sure that when a customer adds an item to the cart and then goes back to look at more items, when they return to the cart it still has their already added items in it.
Marketing Tools/Emails
Romancart also uses cookies to identify visitors on a site for marketing purposes on behalf of safetypsecs.co.uk. For example to track the path that buyers take through a website.
Customers must now 'opt in' to receive marketing promotional emails rather than 'Opt out'. They are offered an 'opt in' option during checkout in the final stages of purchasing a product and also in requesting guides/literature via the link on our homepage. Any customer who doesn't 'Opt in' will not receive any emails from us other than information emails pertinent to the supply of their particular order.
Unsubscribe links will always be provided should a customer which to no longer take part in receiving marketing emails
Customer Data
Data is stored for legitimate business purposes and to comply with the law unless we receive a valid request to remove the data. Legitimate reasons include HMRC accounting requirements and keeping records of supply of optical goods by the General Optical Council.
What We Do Not Do With Data Stored With Us
safetyspecs.co.uk and Romancart both consider ourselves custodians of the data on behalf of their customers and as such we would not pass the data to anyone else unless required to by law.
Data Security
Our systems are run in physically secure environments with multiple levels of security required to access any of our equipment at all locations.
We do not store card details and because of this are 'Out of Scope' of PCI requirements.
We use standard industry practices on information security management at both hardware and software levels to secure the data held with us.
Because of the nature of transmitting data across the internet and the ever changing nature of internet technologies it is not possible to 100% guarantee the security of stored data.
Control Over And Access To Personal Information
safetyspecs.co.uk has the capability to delete contact records from the customer relationship manager and to delete sales records from the Sales manager in Romancart systems. we would use these to delete the personal details of customers or contacts as required.
To request deletion of your personal data or disclosure of the data held by safetyspecs.co.uk or Romancart you should contact safetyspecs.co.uk with details who will be able to action this for you. This must me given in writing and safetyspecs.co.uk will be required to perform some identification processes to ensure we are actioning the request legitimately and on instruction by the correct person.
GDPR Requests
If you have any requests under the terms of the GDPR then please contact safetyspecs.co.uk who will be able to assist you with this. If you are a customer who has been unable to contact safetyspecs.co.uk please email support@romancart.co.uk with the subject 'FAO Data Protection Officer'
Data Protection / GDPR
The "Data Protection Legislation" refers to European Directives 95/46/EC and 2002/58/EC, and any pursuant legislation including the General Data Protection Regulation, Regulation (EU) 2016/679.
"Personal Data" refers to identifiable data processed by Romancart relating to an individual interacting with safetyspecs.co.uk.
Romancart.co.uk Ltd acts as a "Data Processor" in the context of the relevant legislation.
safetyspecs.co.uk Ltd acts as a 'Data Controller' in the context of the relevant legislation.
a) Romancart will process the personal data only for providing the services for safetyspecs.co.uk who is operating the Romancart account. If Romancart is required by law to process the data for any other reason then if appropriate safetyspecs.co.uk will be contacted in advance of this processing.
b) Data is stored by Romancart in the UK.
c) If Romancart receives a complaint from a Data Subject or Supervisory Authority regarding the processing of Data then safetyspecs.co.uk will be contacted with this information.
d) Romancart will contact safetyspecs.co.uk if it becomes aware of any accidental, unauthorised or unlawful processing, disclosure or access to the personal data. safetyspecs.co.uk will in turn, report this breach as part if its responsibility to you, to the Government Information Office.
e) safetyspecs.co.uk and Romancart Ltd ensures that anyone with access to the personal data does so only as required and is bound by a confidentiality agreement to prevent disclosure of the personal data.
f) At a safetyspecs.co.uk request Romancart will mark data for deletion and will remove the data as soon as possible after the request is received. At the same time as the request for removal, safetyspecs.co.uk Ltd may request a copy of the data be sent to them by a secure means before removal.
g) If a Romancart Ltd account is not upgraded and is not logged into by safetyspecs.co.uk Ltd for 6 months and has made no sales during that period, Romancart Ltd may close the account and remove any data relating to that Romancart account - including personal data.